Alcohol Regulation 101
Structure of U.S. Alcohol Regulation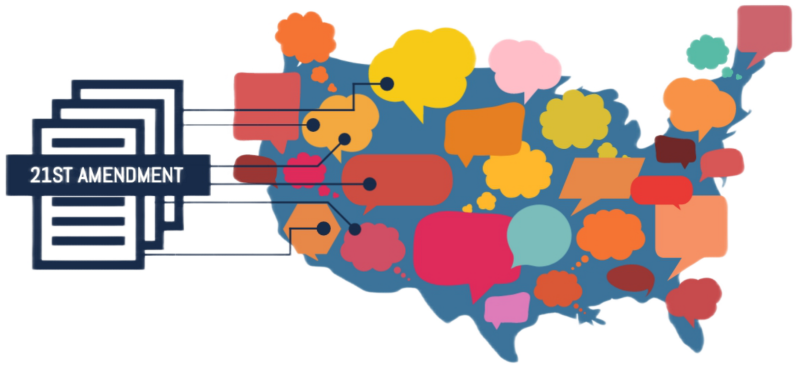 Alcohol is the only commodity that has not one, but two U.S. constitutional amendments, the 18th Amendment, passed in 1919, that enacted federal Prohibition and the 21st Amendment that repealed it in 1933. The 21st Amendment gave states the explicit power to regulate and tax alcohol within their borders. Yet after the repeal of federal Prohibition, many states still prohibited the sale of alcoholic beverages. Mississippi was the last state to repeal its state-level prohibition in 1966 and there are some localities that remain dry, prohibiting the sale of alcohol still to this day. 
White Papers
Dry America in the 21st Century (June 2016)
This white paper explains the concept of wet/dry jurisdictions, the rationale behind them and the trends surround wet/dry jurisdiction across the country.
Wet/Dry Counties (June 2016)
This report provides an overview of whether a state allows localities to choose to be a wet or dry jurisdiction and lists wet and dry jurisdictions in each state.
Regulatory Systems: Control and License Models
There are two forms of alcohol regulation in the U.S, the control model and the license model. The control model is where the government in a jurisdiction is a market participant directly controlling the distribution and sale of beverage alcohol within its borders. Seventeen states and several local jurisdictions in Alaska, Maryland, Minnesota and South Dakota control the sale of distilled spirits, through government agencies at the wholesale level, and 13 of those jurisdictions also exercise control over retail sales for off-premises consumption; either through government-operated package stores or designated agents. Currently, control jurisdictions represent approximately 25% of the nation's population and account for roughly 22% of distilled spirit sales. Jurisdictions that have the license model allow private sectors to distribute and sell the product.
Researchers who authored Toward Liquor Control, the seminal report that provided a blueprint for alcohol regulation in the U.S. following the repeal of federal Prohibition, recommended jurisdictions adopt the control model as one way to restrict access to higher alcohol by volume (ABV) products.
Regulatory Authority: Federal, State and Local
While states have primary authority over alcohol regulation, both the federal and local government play a significant role in ensuring an efficient alcohol regulatory system. Alcohol regulation requires coordination and communication between federal, state, and local government agencies.
Federal Oversight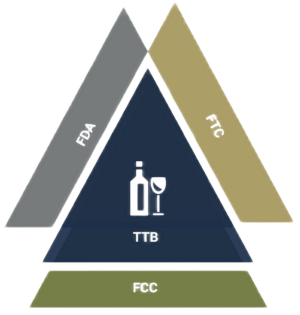 The Alcohol and Tobacco Tax and Trade Bureau (TTB) has primary responsibility for enforcing federal alcohol laws, including the alcohol portions of the Internal Revenue Code and the Federal Alcohol Administration Act, overseeing production, importation, wholesale distribution, labeling and advertising.
The Federal Trade Commission (FTC) addresses concerns about the effects of alcohol marketing on youth by conducting law enforcement investigations, promoting effective industry self-regulation, educating consumers about teens and drinking, promoting effective label disclosures and coordinating with other federal agencies. They release reports on the status of alcohol industry's compliance with its own self-regulatory standards.
The Food and Drug Administration (FDA) is responsible for enforcing the federal food and drug law: the Food, Drug and Cosmetic Act. It may weigh in on additives and whether the product meets its G.R.A.S. (Generally Recognized As Safe) standard. The TTB and the FDA have an official MOU.
Federal Communications Commission (FCC) is responsible for communications. Unlike tobacco, Congress has not enacted any law prohibiting broadcast advertising of alcoholic beverages and the FCC does not have a policy regulating these advertisements.
State Responsibility
Each state alcohol regulatory structure is different, but most states have a state agency that has primary regulatory authority over alcohol, which oversees the sale, distribution and administrative enforcement of the state alcohol code. Several state agencies play a supportive role to the alcohol regulatory authority related tax collection, enforcement and adjudication of alcohol laws and protecting public health and safety.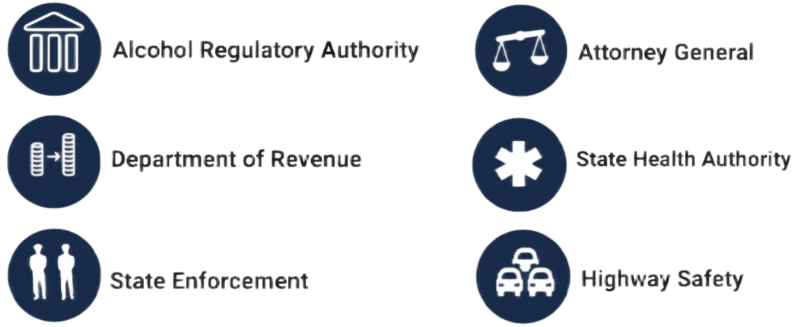 Local Government
Local government agencies and community groups play a supportive role to the alcohol regulatory authority specific to fire and zoning codes and public health and safety regulations. In some states, there is an alcohol regulatory authority at the local level that has primary responsibility for alcohol regulation within its jurisdiction.

Find Your State Alcohol Regulatory Authority
The Alcohol and Tobacco Tax and Trade Bureau provides a list and website links to state alcohol regulatory authorities.